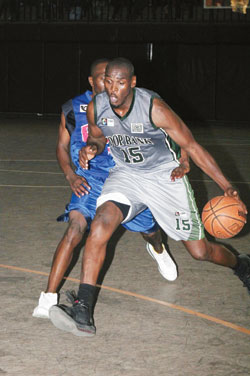 Peter Kiganya is no doubt the most accomplished Kenyan basketball player ever. In a career that lasted over two decades, Kiganya played in the Kenyan league, in the USA collegiate leagues, as well as in leagues in Chile, Argentina, Uruguay and Paraguay.
Kiganya's hoops career started while a form 4 student at Eastleigh scecondary school in 1990. During this period, Eastleigh was the best basketball school in Nairobi and one of the best in the nation. His uncle as well as the basketball coaches prevailed on Kiganya to take up the sport due to his towering physique. Prior to this, Kiganya was totally uninterested. he was more interested in acting.
On completing secondary school, Kiganya played for various Kenyan teams such as KPA, Lifebuoy, Kenya Airways and finally the Kenya Christian Industrial Training Institute (KCITI). It was while playing for KCITI under American coach Paul Mauldin that he got his big break; In 1997, he was offered a basketball scholarship by Abilene Christian College. Mauldin has been a coach at Abilene and was able to secure the scholarship for Kiganya and other Kenya players such as Caroline Omamo, Mike Obudho and Alex Aluga.
College Basketball Career
On arrival at Abilene, Kiganya became an instant hit leading his team in scoring and rebounding. In 2000 he finished second in the Lone star conference league in scoring (19.8 points per game) and fourth in rebound (8.3 rebounds per game) as the Wildcats finished the season 13-14. He was voted the conference co -player of the year for the Lone Star Conference.
In 2001 he was at it again averaging 16.5 points and 9.6 rebounds per game. That year he had the most double doubles of any player in the LSC (14).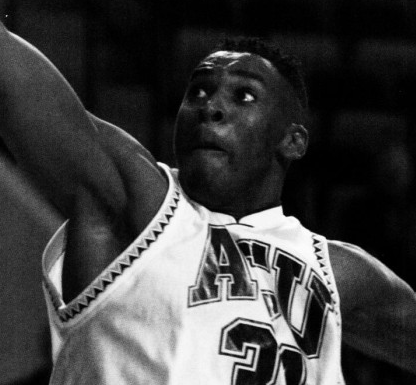 Kiganya playing for Abilene Christian
Despite mostly playing as a center, Kiganya wowed opponents and fans alike with his superb 3 point shooting, passing and ball handling skills. He often grabbed a rebound and went coast to coast before finishing and setting up a team-mate for an easy basket.
Professional Career
On completing his college career, Kiganya embarked on a professional career. He was once invited to an NBA training camp. He was however not selected whereupon he proceeded to Chile to join Espanol de Talca. Here he was voted the best import player. In 2004 he moved to Uruguay to play for Welcome. In Uruguay he was voted the most solid player. He was averaging 24 points, 10.4 rebounds and 4.5 assists per game.
In 2005 he joined Echague Atletico in the Argentinian league. This was perhaps the zenith of his career.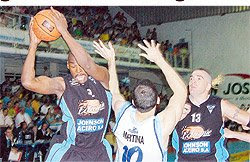 His worldwind career in South America took him to several places and various clubs including: Felix Perez, Asuncion – Paraguay (2009) Joint Lyceum, The Andes – Chile (2008 and 2009) Sol de America, Asuncion – Paraguay (2008) Deportivo San Jose, Asunción – Paraguay (2007) Club Olimpia, Montevideo – Uruguay (2007) Club Olimpia, Montevideo – Uruguay (2004) The Ticket, Los Angeles – USA (2003) and Racing Lima of Peru (2009).
In South America he became known as the African Lion in part due to his dreadlocks.
Return to Kenya
After a long career in South America, Kiganya returned to Kenya and joined powerhouse Cooperative Bank on a full time basis. Prior to that he had been returning to play for Co-op during the off-seasons of the South American leagues.
After an illusitrious career that last 22 years, he retired from basketball in 2012. Today Kiganya remains active in the Kenya basketball season. He formed Friends of Basketball, a basketball team which now plays in division 1. He is also one of the coordinators of Friday night basketball and Code red.