I've always loved basketball. I played it in Kenya (and I can date myself here) back when teams like St. Pats up in Iten were in decline and a small school called Nyeri Baptist along with Rosslyn Academy were our only competition. I've been back to Kenya since and have seen a great change in the game there. There are more and more good players – schools like Strathmore and Saints are putting together teams that can really play. I have hesitations to voice over the quality of coaching or refereeing, but with time those will get better too.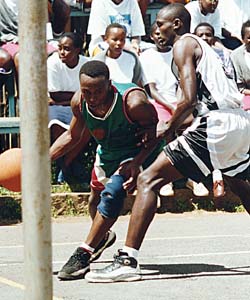 One of the things I really loved about living in Nairobi was the pickup tournaments that came up every once in a while. I was fortunate to live across from Nyayo Stadium, and to have Kenyan friends that would let me know about the upcoming events. At those tournaments I saw some great play. I remember watching one guy drain 13 3-pointers in a single game – which is amazing because how few Kenyans are actually good outside shots, especially in those days?!
Inside post-play was usually, and still is, the name of the game in Kenyan club basketball. A couple years back I had the chance to play with the Barclay's Bank squad. It's not until you run with guys like them or Ulinzi that you realize how big of panzies the guys in the US are when it comes to calling fouls. Yani, those guys didn't call it unless there was blood dripping to the floor!
I've sometimes wondered why there isn't more cultivation of the natural talent – I mean come on, everyone must admit that those Luo's are big and can jump out of the building! I really believe that with better youth coaching and better refs, that the level will improve enough for Kenyans to be good enough to make it to the NBA. I don't see why not – there is the talent, the base skill and the desire – we just need the last few components, which are sometimes the hardest to get because of how corrupt some governing bodies can get.
Why this talk of basketball? The NBA has started up once again, which means that I can now turn the television back on. Gone are the horrible days of Summer with only baseball to watch (the world's most boring sport).